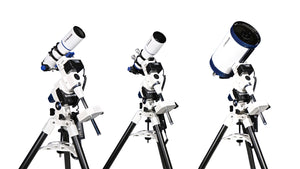 Meade LX85 - Portable Astrophotography Telescopes
Meade has had a gap in their product lineup the past few years of a portable and affordable computerized german equatorial mount. I'm happy to see the new LX85 not only fills in that gap, but includes some telescope options that finally provide an all-in-one astrophotography package!
Meade has positioned the LX85 as a direct competitor to the Celestron Advanced VX. The LX85 mount by itself retails for $799 - $100 less than the similar Celestron Advanced VX mount. Comparing the specs of the two, it's easy to see the similarities. The LX85, being $100 cheaper, does make a few sacrifices to the cost savings including using a set screw instead of a full saddle, and having external motors and cabling.
On the plus side, the LX85 includes the Meade AudioStar controller with a 30,000 object database, and 4 hours of audio narration available for major objects - great for entertaining friends and neighbors. The all-white color scheme will also be more visible out at a dark sky site, showing up clearly under a dim red flashlight to help prevent accidental bumps. The square counterweight is also a nice idea, as anyone who has had the more common round counterweights wander away will attest. 
| | | |
| --- | --- | --- |
| | Meade LX85 | Celestron AVX |
| Capacity (lbs) | 33 | 30 |
| PPEC | Yes | Yes |
| Dovetail Receiver | Vixen Set Screw | Vixen Dovetail Saddle |
| Price | $799 | $899 |
At Last, Portable & Affordable Astrophotography!
In my mind, the very best thing about this new mount is that Meade has chosen to offer it bundled with some of their absolutely fantastic APO refractors and their 70mm Quad Astrograph. That makes the LX85 the only telescope line that provides a single package for new and experienced astrophotographers with a high quality APO refractor at under $2,000. Being able to buy the telescope and mount as a package means saving $100 over buying a scope and mount separately. That's money you can put towards a camera and other accessories. Stepping up to the Meade 115mm APO saves $200. 
Coming in Late September / Early October 2018
Below is the full lineup. These are all available to order now, with the first deliveries expected by the end of September. Meade LX85 Lineup
LX85 Mount - $799
6" Reflector - $949
8" Reflector - $1149
5" Doublet Refractor - $1199
6" Mak - $1399
6" Advanced Coma Free SCT - $1399
8" Advanced Coma Free SCT - $1799
70mm Astrograph - $1899
80mm APO Triplet - $1699
115mm APO Triplet - $2499
---